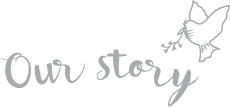 Creativity combined with a deep respect for nature is the common thread
woven through all our designs and choices at Brava Bambini.
Brava Bambini is a family owned business, it's creator Rachel inspired by her
humble childhood beginnings.
As a child, home sat at the foot of a mountain, shaded by an enormous walnut tree,
surrounded by creek, veggie patch and farm animals. An old converted apple shed
served as both her Dad's art Gallery and home.
A childhood spent surrounded by animals, nature and art would eventually inspire and
lead to the creation of Brava Bambini, an organic line of babies and children's clothing.
All pre production designs are made in Melbourne and manufactured ethically and
organically in India. All our products are 100% GOTS certified, with no harmful effects
to our eco-system or the talented team in India making them.
Only the purest organic cottons and fabrics are used, ensuring comfort and safety of
your treasure. Organic fibres breathe and don't itch, reducing discomfort and
irritability throughout babies day and at sleep time babies won't over heat and sweat
when wrapped and swaddled, ensuring more sleep and peace for all. Also because all
our products are organic and designed in Melbourne, our garments wash and wear
beautifully, holding their shape and getting softer with every wash.
Our gorgeous prints are inspired by the beauty of nature, echoing and reflecting the
lovely innocence and fun of child hood. All trims and details are of the highest quality
ensuring softness, comfort and ensuring every piece has a certain unique style and
looks fantastic.
Brava Bambini is the map of where l have been and the path to which my core values
are drawn.
For details on becoming a wholesale partner please refer to our website.
We are wrapped in organics and hope you are too!

Become a wholesale partner.
We would love you to have you join our
wonderful team at Brava Bambini.
If you are looking for something that's exciting and new, incredible quality, style and
diversity sure to appeal to all buyers, then please take a look at our products.
Adorable prints, quality designs and luxuriously soft fabrics on offer with a well thought
out collection ensuring broad appeal. With much thought given to ensuring all collections
mix and match beautifully, complementing or providing all your wardrobe needs. From
clothing, accessories, sleep wear, bedding, gifts and gift sets that are just divine.
ORDERING
Please call 0433379099 to discuss or email requests to         info@bravabambini.com.au.
Please include your contact details and shop location. We will email our wholesale
catalogue, price list, ETA drop dates and order form.
Where possible we will aim to provide a look book for the next 2 seasons, providing a
clear direction of our fashion forward direction and making planning more effective
and easier.
Orders need to be placed 6 months in advance for bulk deliveries.
Small re-order top-up's for the season, while stocks last.
An initial bulk order minimum of $350AUD is required, top up's for the season where
available, no minimum required.
IMAGES
Will be provided with all flat lay's and fashion photographs before
Please call 0433379099 to discuss or email requests to        delivery of order.
POSTAGE
A flat rate of $30AUD for all domestic wholesale shipping.
Express shipping is available at flat rate of $40AUD
Postage costs will be added to your invoice once your order in
ready to be shipped.
We look forward to chatting with you soon,
From the team at Brava Bambini X